Public Health
Oral Health Program
I-Smile™ is a statewide program that connects Iowans with dental, medical, and community resources to ensure a lifetime of health and wellness. I-Smile services are for children and pregnant women. Our oral health team can assist families with obtaining coverage for dental care, providing education, direct services such as screening and fluoride varnish, and locating a dentist.
I-Smile @ School™ is for preventative care for school-aged children. Our oral health team works with schools that meet criteria and provides education, screening, fluoride varnish, sealants, and care coordination.
Our Preschool Oral Health Program provides education, screening, fluoride varnish, and care coordination for children attending preschool and Head Start. These services are funded by the Iowa Department of Public Health, Buena Vista-Crawford-Sac Early Childhood Iowa, Harrison-Monona-Shelby Early Childhood Iowa, and Boost4Families (Cass County).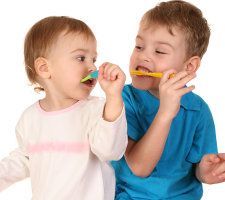 Programs