Public Health
Child & Adolescent Immunization Program
All the vaccine for the Child & Adolescent Immunization Program is supplied through a federal program, Vaccines For Children (VFC). Children eligible to receive VFC vaccines include:
Children enrolled in Medicaid
Children who do not have health insurance
Children who are American Indian or Alaskan Native
In addition, children who have health insurance that does not cover the cost of vaccines are considered to be "underinsured," and are eligible to be seen. Children not meeting these criteria are referred back to their family physician.
Walk-in clinics (no appointment needed) are available two to three times per month. Additional clinics are held during back-to-school time and flu season.
All immunizations given are entered into the Immunization Registry Information System (IRIS), which provides computerized tracking of immunizations for children, adolescents and adults. By entering the vaccinations into the system, they are available across the state by any provider.
The immunization clinic schedule is available on the home page under Upcoming Events. You can also get a schedule by calling our office.
For more information about child, adolescent, and adult vaccines, visit http://idph.iowa.gov/immtb/immunization or contact our office.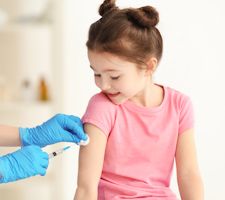 Programs